Skip to Main Content
It looks like you're using Internet Explorer 11 or older. This website works best with modern browsers such as the latest versions of Chrome, Firefox, Safari, and Edge. If you continue with this browser, you may see unexpected results.
Treatises, Hornbooks and Nutshells
Treatises are in-depth treatments of a legal subject written by scholars in the field. Consult them at any stage in your research -- whether you're looking for an overview of the subject or detailed analysis of a particular point of law. Pay attention to the footnotes for references to other sources, both primary and secondary.
Hornbooks are shorter treatises written with law students and practitioners in mind.
Nutshells are brief, handy overviews of an area of law. Pick one up when you want a quick introduction to a subject, or use as a reference or study guide.
Legal Encyclopedias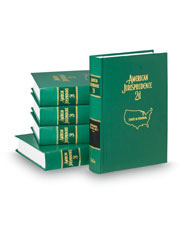 Legal Encyclopedias are a great way to start research on an unfamiliar topic. They offer concise explanations on subjects from the broad to the specific, and help lead you to other relevant secondary sources.
American Jurisprudence (AmJur.) and Corpus Juris Secundum (C.J.S.) are the major national encyclopedias, but many individual states publish them as well (e.g. - Massachusetts Practice or New York Jurisprudence).
Use your keywords to search the index to find relevant entries. Here are a few examples:
Find other selected state encyclopedias through NUCAT or on Westlaw or Lexis.