Skip to Main Content
It looks like you're using Internet Explorer 11 or older. This website works best with modern browsers such as the latest versions of Chrome, Firefox, Safari, and Edge. If you continue with this browser, you may see unexpected results.
Current Congress
This free website allows you to track current bills which are working its way through Congress. It also provides methods to view members of Congress' voting records. The website is sponsored by Civil Impulse, LLC.
The homepage of the U.S. Senate which provides information about senators, current bills, committee information, floor schedules, and voting records.
The homepage of the U.S. House of Representatives which provides representative information, legislative activity, committee information, leadership, floor schedule/calendar and links to the daily digest (a index like guide to the Congressional Record).
U.S. Statutes at Large
Statutes at Large: consists of either public or private laws (also termed slip laws) passed by Congress which are published according to the date of passage. The enacted public or private laws are given a number such as 101-12 (the law enacted was the 12th law passed during the 101st session of Congress). The statutes at large are bound in volumes and are given a volume and page number (e.g. 119 Stat. 108; volume 119 page 108 of the Statutes of Large). If you only have the Public Law number, you can locate the correct Statutes at Large volume by checking the spine and the table of contents.
U.S. Statutes at Large - United States
This official print version includes vol. 1-124 (1789-2010) and includes all public laws as passed by each session of Congress. The official codification of U.S. laws is only published every six years with annual updates and the U.S. Code, which is the official codification of laws by Title, is only published every six years with annual updates. The U.S. Statues at Large includes the volume and page numbers which can be used for citation purposes. The print volume can be easier to navigate as opposed to the online databases.
Public and private laws can be accessed through GovInfo for the 104th Congress (1995-1996) through 113th Congress (2013-2014).
U.S. Code (print)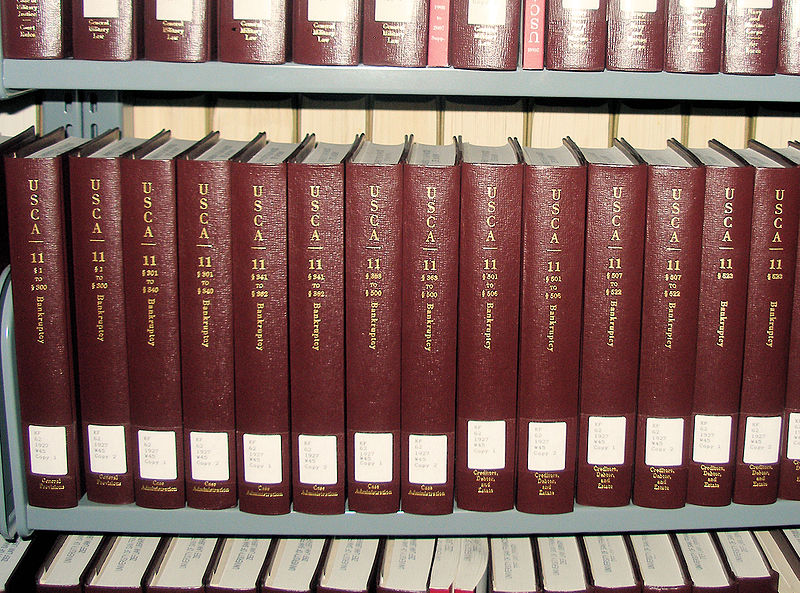 Image attributed to: Bookworm Room at http://www.bookwormroom.com
Call Number: KF62 1927 .W45
Publisher: West Publishing
The USCA includes all enacted laws as listed in the U.S. Code, but is extremely useful for research purposes. It includes references to relevant sources such as West's Digests, State Reporters, and Legal Encyclopedias (E.g. Corpus Juris); historical notes; listing of cases which construe laws, and a comprehensive index.
U.S. Code Annotated (online)
The online version of the USCA includes the full text of laws which comprise the 51 titles of the US Code. References and annotations to sources (e.g. cases, legal encyclopedias) are also included which can be easily accessed through hyperlinks. However be sure to narrow your search as it is easy to stray from the original search in the electronic format.
This free online resource includes all 51 titles of the U.S. Code which are hyperlinked for easy access. The U.S. Code includes all effective laws and are arranged by subject. Laws are included in the U.S. Code every six years. You can search by Title and Section numbers. NOTE: this does not include any references or annotations.
Official Publications (online)
A free online resource which contains the proceedings and debates of the U.S. Congress from the 101st Congress (1989) to the 113th Congress (2013-2014). The Congressional Record is comprised of several sections: the floor proceedings of the House and Senate; the extensions of remarks (text which is added after floor proceedings); and the daily digest (a summary of the day's activities in both the House and Senate). You can search for the particular proceeding or date of remarks through a variety of methods such as member name, section of the record, and session of Congress. This online resource allows access to the exact remarks of a Representative or Senator as a form of support or opposition within a legislative history.
An online database which can be accessed through NUSL and includes a variety of congressional publications. You can search by hearings, Congressional Record, and committee prints; many of which date to the early 1800s. The publications can also be searched by index terms such as subject, committee, and popular name of legislation.
HeinOnline: U.S. Statutes at Large
This resource can be accessed through HeinOnline or through a NUSL ScholarOne search and includes vol. 1-124 (1789-2010) in PDF form. You can browse statutes by volume, popular name, public law number, or enter the citation.